HOW TO GROW DAHLIAS
WHEN AND WHERE TO PLANT
Dahlias should be planted from April 15th thru the end of May. Plant in an area that gets at least half a day of sun, full sun is best. With less sun the plants will be tall and spindly with few flowers.
SOIL AND PLANTING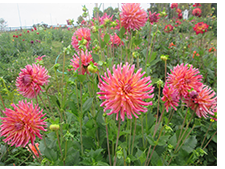 Dahlias should be planted in a sunny, well drained area. To improve soil texture and fertility add bagged steer manure or compost. Bone meal can be added at planting time, one handful per tuber. PH level should be between 6.54 - 7.0. Lay the tuber horizontal 4 - 6" deep about 18" apart. Do not water after planting. Wait until sprouts have appeared above ground. The tubers will rot if kept too moist. There is plenty of water in the tuber to sprout. Plants which reach 3 feet tall should be staked.
GROWING IN CONTAINERS
Any dahlias can be grown in a container. Lower growing varieties work best. Containers should be at least 12" in diameter and 12" deep. Larger for larger plants. Use a good quality of potting soil. Water sparingly until tubers sprout. Dahlias in containers need to be kept moist but not soggy. Fertilize often with a low nitrogen liquid fertilizer following the directions on the label.
WATERING FERTILIZING WEEDING
In most areas dahlias should not be watered until sprouts appear. During the growing season water 2 to 3 times per week. Drip irrigation works best. Check out DRIPWORKS @ dripworks.com. Watering by hand is not enough. About 30 days after planting, fertilize with a 5-10-10 fertilizer followed in 3-4 weeks by another application. Remember Dahlias grow a tremendous amount from planting until about the 1st of September.. Providing plenty of water and fertilizer during this time is critical. The only type of weed control should be hand weeding. Do not use herbicides.
PESTS
Use bait for slugs and snails as sprouts emerge. Dahlias have few insect and disease problems although spider mites, aphids and earwigs may appear. They are mostly a nuisance. Spray if they are a concern to you.
Dahlias are DEER RESISTANT. Our field is unfenced and deer actually live in the field. They have NOT bothered the dahlias.
CUT FLOWERS
Most of the varieties we grow are good for cut flowers. Pick lots of bouquets. The more you pick the more they produce. Cut only fresh flowers - when they are just fully open (buds will not open). Flowers should last about 1 week. Deadhead any flowers you do not cut.
WHAT TO DO IN THE FALL
Dahlias may be left in the ground over winter but they may rot or freeze. Leaving them in the ground is not an option if the ground freezes to a depth of 4-6 inches. (See Winter Storage) In warmer areas like the Pacific Northwest you may leave them in the ground. Many growers leave them in the ground rather than digging and storing. It's a lot less work than digging on a cold, wet November day. Since dahlias can freeze or rot you must protect them. First make sure they are planted in an area with good drainage. After a killing frost or by Mid November cut stalks to the ground. Cover with plastic to keep moisture out. Add a few inches of mulch such as soil, leaves or straw. The clumps should be divided every 2-3 years. Dig in the spring when sprouts first appear. Divide and let the cuts heal/seal overnight. Replant the next day.
DIGGING DIVIDING WINTER STORAGE
About 2 weeks after a killing frost or by mid November dig your tubers. Tubers dug too early will not store well. Cut stalks back to about 6 ". Lift the tuber carefully with a spade or fork so as not to break the necks. Wash dirt from the clumps and allow to air dry for 24 hours. Each tuber must be divided so it has an eye (like a potato). We recommend dividing in the fall. All eyes are located in the area where the tubers meet the stalk. Use a sharp knife or pruners to cut. Not all tubers will have eyes. It's best to store tubers in slightly moist peat moss, vermiculite or shavings. Store in cardboard boxes or ventilated crates. Never use plastic bags or plastic containers. Store in a cool, dry place 40-50 degrees. Too warm they will shrivel. Too cold they will freeze. Check tubers often and discard any spoiled tubers.