New Day Garden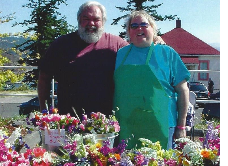 New Day Garden is a small flower farm on San Juan Island, owned by Paul and Kim Flack, specializing in growing Dahlias and other cut flowers. Our roadside stand is open seven days a week during the growing season. We are located at 1220 Cattle Point Road on San Juan Island.
In April the season kicks off with tulips and Dutch Iris. Dahlia tubers are available for spring planting April thru May. Dahlia bouquets will brighten our stand mid July through October.
Flowers from farm to farmer's market.
Special orders are always welcome! We invite you to tour the field while in bloom to browse our varieties of dahlias.